The potential of Travel Ancillary Revenues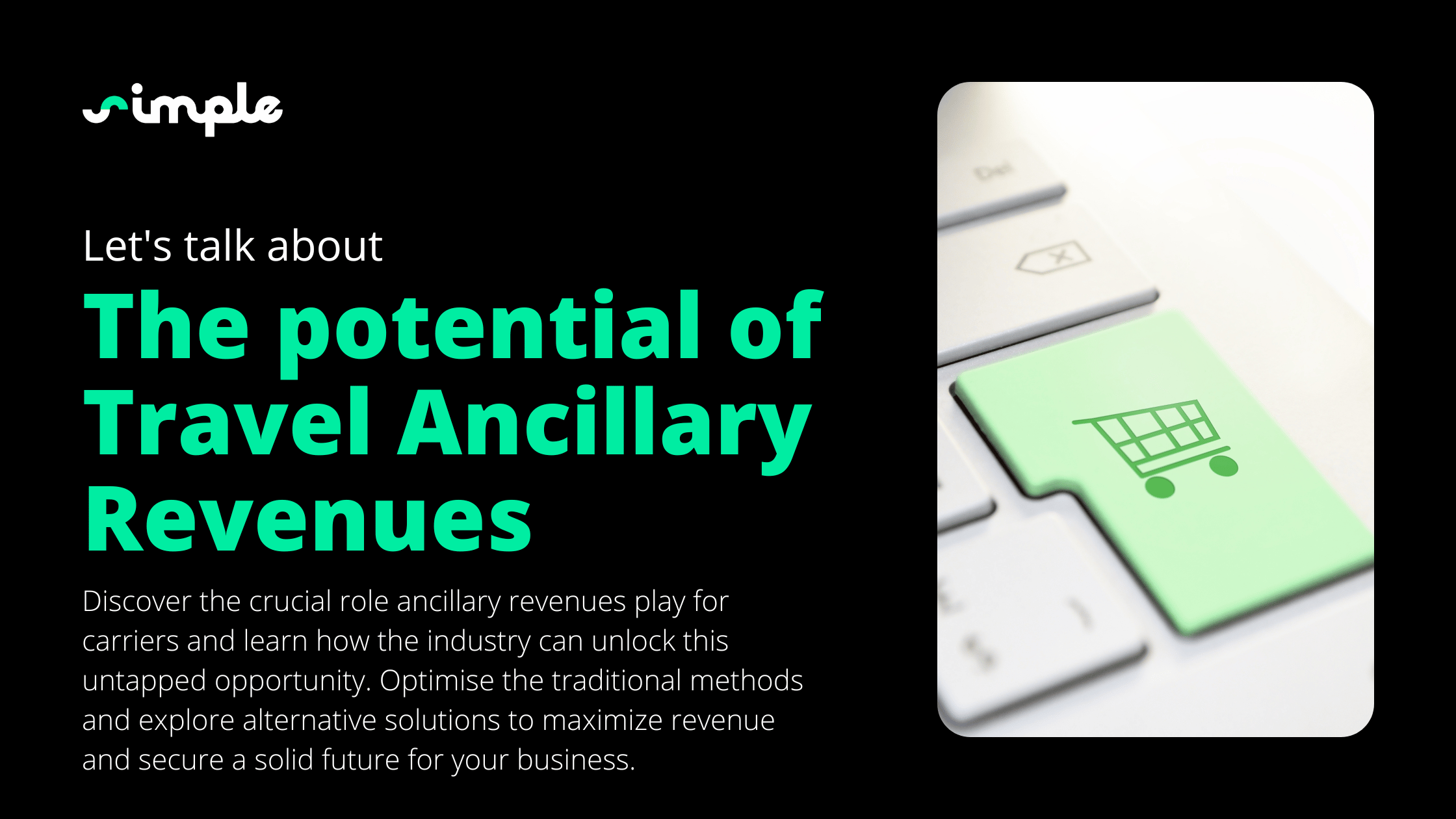 Airline Ancillary Revenue Reaches $462 Billion
Just how big is ancillary revenue in the airline travel industry? A recent ancillary report from CarTrawler and ancillary strategy firm IdeaWorksCompany the ancillary revenue for 2021 is estimated to be $462 billion, which may not be as high as 2019's $840 billion, but it's still a 32% boost from 2020's $350 billion.
It's a common misconception that carriers solely rely on ticket sales for their profits. Many carriers actually make good money from other aspects of their business. The rise of low-cost carriers, the industry has undergone a shift in the way they generate revenue. These budget-friendly airlines have mastered the art of offering extremely competitive tickets while still making a profit through what's known as ancillary services.
Explaining Ancillary Revenues
Ancillary revenue is revenue generated from products and services outside of a company's core offering. In the travel world, it could mean offering car rentals or hotel bookings to your customers. These travel companies are aiming to become a one-stop-shop for their travellers and offer a variety of add-ons and experiences.
Measuring how much people are willing to pay (known as WTP) for these extras is crucial for the industry, and it's why ancillary services are becoming more important. They're a way for travel companies to stand out, and increase their revenue, with the added bonus of enhancing their customers' journeys.
Let's have a little look at a few Airline Ancillary Revenues:
Baggage: Fees charged for luggage with mostly carry-on luggage included in low ticket fares
Onboard sales: Food, entertainment, and comfort products offered at increased prices
Extra leg room: common amongst the low-cost carriers due to the limited seat space available
Car rentals: Airlines partnering with car rental organisations to increase exposure and revenue
Travel insurance: Offered as an a la carte service although mandatory for some destinations
Frequent Flyer programmes: American Airlines, was able to generate revenue of $19.5 billion from their frequent flyer programs in 2019, or an average of $25.71 per passenger. Qantas on the other had generated $40.48 on a per-member basis.
Harnessing Ancillary Revenues for Your Benefit
So, what's holding us back from tapping into the massive potential of ancillary opportunities in the industry? With so many options and vendors, it can be a challenge to make sense of it all and offer each customer exactly what they need. Technology can also be a hurdle, and prioritising it within development cycles is no easy feat. Plus, the costs of IT investments can be daunting.
But, never fear! To move forward, we need to find creative minds within our organisations who are willing to try something new. Partnering up with other companies could eliminate many of these obstacles, but we'll need a shift in company culture and a greater willingness to embrace partnerships to make it happen.
Step up your travel game by embracing technology. Offer your travellers the ultimate travel experience with personalised service, clever marketing, and seamless payment options. Stay ahead of the curve and maintain your brand by incorporating the latest tech into your offerings.
Think creatively and put your travellers' needs first. Whether you're an airline, OTA, or ferry company, your customers are counting on you for their travel needs. Utilise a travel commerce platform to sell travel content before, during, and after their trip. An added bonus? One such new example would be to offer visa or travel authorisation documentation on your platform for added peace of mind and an extra revenue stream.
Maximise your ancillary revenue by being there for your customers when they need you the most, through their preferred device. It's not just about what you offer, but how you offer it. Get to know your customers on a deeper level and engage them with a personal touch. This way, you'll be able to provide a truly unforgettable travel experience that drives sales and improves their journey.
Travel Authorisations: "The Essential Ancillary"
"The future of visa-free travel: travel authorisations as a permanent security fixture", Border Management Today, CEO & Co-founder, Renaud Irminger, wrote about how next-generation technology boosts national security in Border Management Today.
One idea is making your customers' travel booking process more convenient by including E-visas and travel authorisation services in your ancillary portfolio. The online visa trend is gaining momentum, with the Schengen Area set to launch the ETIAS (European Travel and Information Authorisation System) later this year. Who knows, traditional visas may eventually become a thing of the past as more and more countries adopt the ease of online visas. But for now, some countries still require in-person screenings for long-term visas for work or residency, which is still up in the air as to whether they'll be handled online.
So what's next, well carriers are already in a sweet spot with a solid group of loyal customers and all the data they need to give personalised service. By leveraging your wealth of passenger data, you can use customer profiles, preferences, and choices to predict their needs and offer them tailored product offerings. By embracing commerce technology, you'll have the opportunity to seamlessly offer additional products and services, leading to growth that outpaces the travel industry average! It's simply a matter of taking the leap and embracing this exciting new world.