Who uses visa processing software?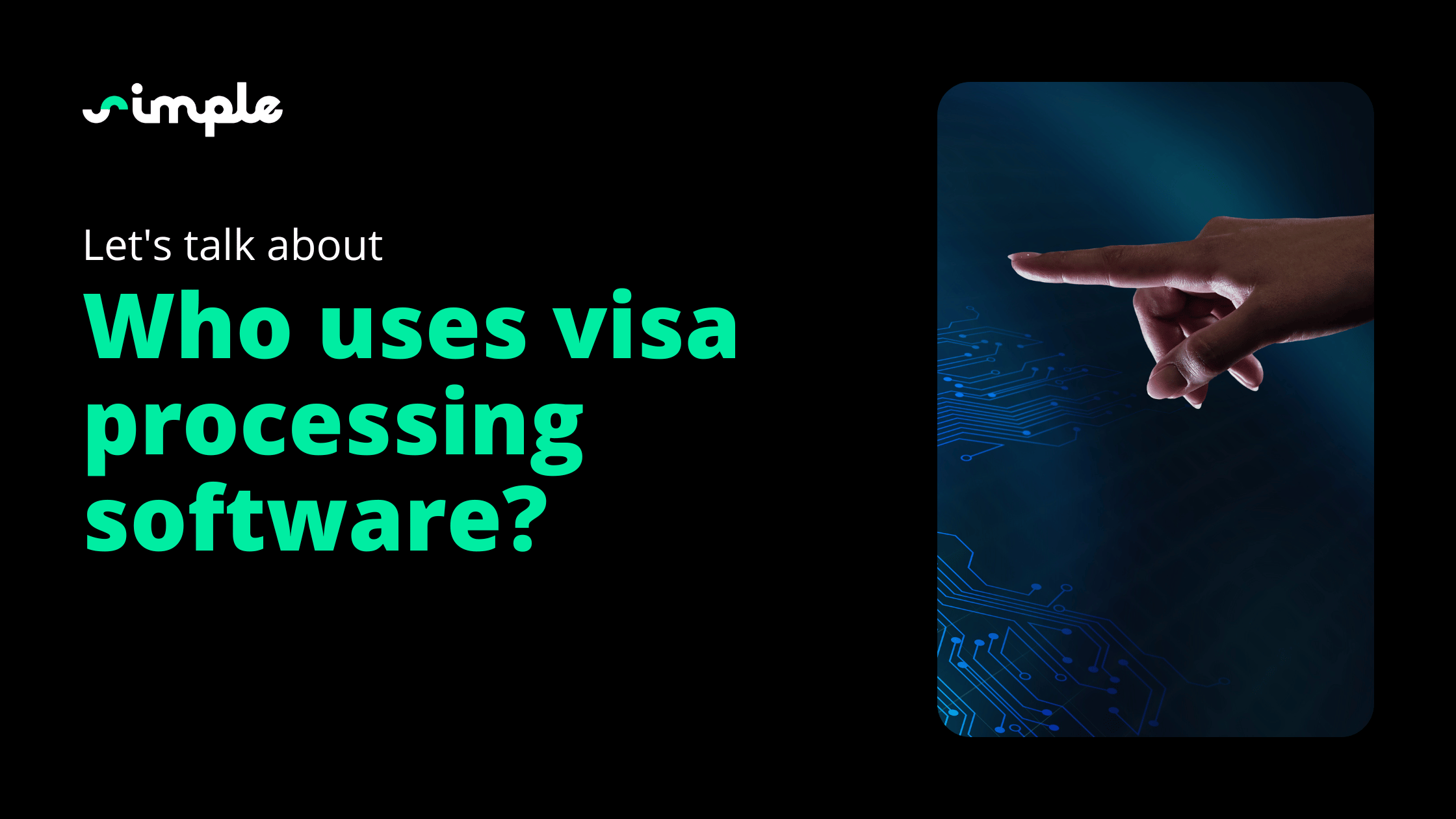 In an increasingly digital world, electronic visas are becoming much more common.
As more countries transition from traditional to e-visa systems, online travel companies are quickly beginning to discover the many benefits of online visa processing software.
Online visa processing is growing in popularity. In the near future, it will most likely become essential. Therefore, it's essential that companies learn how these systems work if they're going to compete in the changing market and meet their customers' expectations.
So, what are electronic visas? What are the benefits? And who uses processing software to issue them?
Simply put, electronic visas allow for the management of the visa application process to be carried out entirely online.
This means that rather than completing physical forms and waiting for them to be received and processed – which can be time-consuming – travelers are able to complete their application online. This includes all aspects of the process. Everything from filling in forms, making payments, and receiving a final decision, can be completed using an eVisa portal.
This is something that's used by many countries, including major destinations like the US, Australia, and others. As of 2021, this will also include the European Union. It's not surprising that online services are popular with travelers, as well as immigration services. They offer many benefits, such as:
They make the process more efficient and much less hassle for everyone involved
Safety and security are improved due to better access to traveler information and better tools for tracking passengers
It saves time as it streamlines and simplifies the entire application process
It boosts revenue for travel operators as they can charge additional fees for visa processing
As you can see, there are numerous benefits to e-visas. But, when it comes to visa processing software, who can use it?
There are several types of online companies that can benefit from adding this additional service to their existing ones.
Visa processing software for online travel agencies (OTA's)
There's no doubt that online travel agencies are the future of the industry. Booking holidays and trips abroad online has never been more popular. In fact, in a study carried out in 2019, it was estimated that, in the same year, online digital travel sales were worth $755 billion globally. Impressive, right? And in addition to this, it was also estimated that 83% of adults in the US now prefer booking their travel online.
These figures show just how much money is being spent on travel online. Because of this, online travel agencies are often looking for a way to improve their service and boost profits. Integrating visa processing software is a great way to do this. Most customers now prefer to purchase everything online, and all in one place.
By adding the option to buy an e-visa with the rest of their trip, in the same way, that they would book a hotel or car hire, this improves their experience and saves them time and money. It's also great for the agency, as they can charge an additional processing fee.
Visa processing software for airlines
As well as online travel agencies, airlines can also benefit from using visa software as part of their service. Like travel agencies, airlines aren't short of customers – especially when it comes to online bookings. However, in the last few years, many airlines have found that slowing demand and rising operating costs are squeezing their profit margins.
In 2019, the International Air Transport Association (IATA) announced that it would be downgrading its predictions of the global air travel industry, and many companies are beginning to plan accordingly.
The report did note, however, that passenger demand is still strong and that airlines can still remain profitable. Like in any industry, companies are finding that they need to do more to compete. By including a visa application service at the point of sale, airlines can offer their customers a service that's faster and simpler than their competitors.
They can also charge additional fees for visa processing like they would for other added extras. This is one of the best ways of boosting revenue – in a similar way to charging for more baggage allowance or transfers, airlines can offer an e-visa at the point of sale.
Visa processing software for physical travel agencies
Although more consumers are choosing to book their trips online, there is still demand for physical travel agencies. In fact, many travelers still prefer this service for many reasons. For example, they might prefer speaking to someone in person, or they might feel like the service is more secure and less open to the risk of fraud or security breaches. Whatever the reason, the fact is, physical travel agencies still provide an essential service within the travel industry. But, with many of these types of businesses struggling, it's essential they maximize profits and try to attract as many customers as possible.
Offering travelers the chance to purchase their e-visa with the rest of their trip is an amazing way to do this. When someone books a holiday through an agent, it's usually a sign that they want to remove the hassle of booking everything themselves – and, the majority of the time, they are willing to pay more for this.
Physical travel agencies can take advantage of the software that's available and offer their customers e-visas when booking the rest of their trip. This can be done in the same way as they would when booking other extras, like car hire or anything else.
Visa processing software for tour operators
Lastly, tour operators can use visa processing software to offer customers visa application services that are included in their package. This is particularly beneficial for operators that run large packages or have high paying clients – for instance, they might be working with a large company sending their employees abroad. With bigger contracts like this, the additional profits from e-visa processing can be substantial. Plus, it makes life much easier for the person booking, as they don't need to spend additional time researching which visas are needed, applying for them, and waiting for a response.
As we've seen, visa processing software is a great addition to various types of businesses. It improves the service they can offer their customers, as it saves them time and is much more straightforward.
Also, it can help the types of businesses we've mentioned to boost their profits by charging extra fees, and by attracting and retaining more customers thanks to the convenient service on offer.
If you want to know more, request a demo of our travel visa API.